Last year, U.S. holiday sales reached $270 billion compared to $257 billion in 2021. The festive mood turns every fifth visitor to your website into a customer. Everything you have to do is provide a favorable shopping atmosphere: the right timing, content, and offer.
Usually, marketers start a holiday campaign pre-production three-four months ahead of the launch date. So let's choose the best holidays and events throughout the year to grow your online sales successfully.
Make sure you take advantage of every opportunity to engage your target audience with a comprehensive list of holidays celebrated throughout 2023.
Let's dive in!
But first, look at the list of eCommerce trends to consider before drafting your eCommerce calendar
Target the interests of the audience in your niche.
Provide conversational shopping experience via live chat and chatbots on your website, socials, and messenger.
Launch live streams on YouTube, social media, TikTok.
Provide the opportunity to pay with cryptocurrency.
Adopt marketing automation and AI tools to provide the best possible performance of your campaigns and analyze results.
January 2023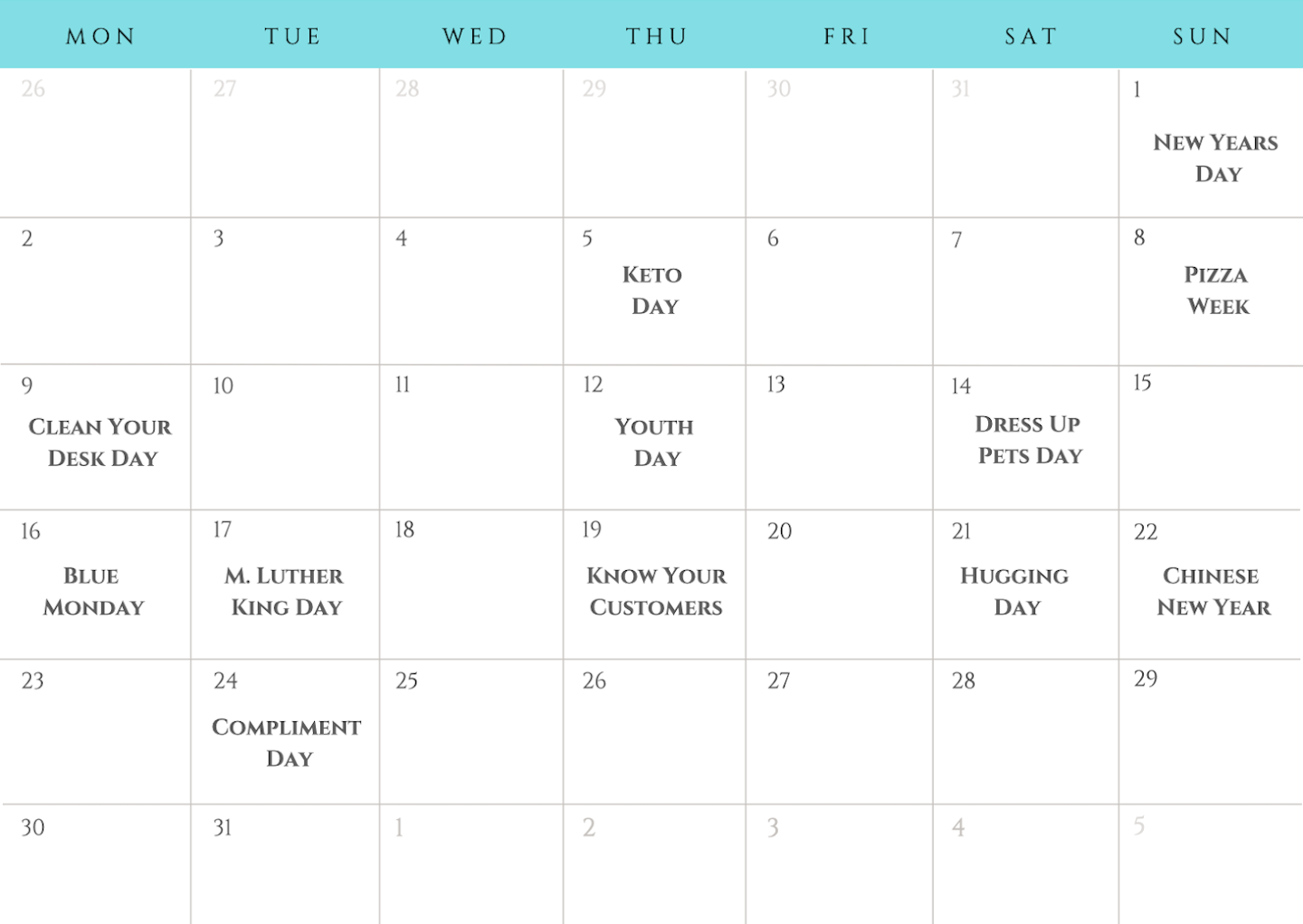 Although January is almost past, it is a month of new resolutions and a hunt for multiple sale offers. People are looking for places to spend discount cards and gift certificates. So here are a few occasions you had in January:
January 1. New Year's Day.
January 5. National Keto Day.
January 9. Clean Your Desk Day.
January 16. Blue Monday.
January 17. Martin Luther King Day.
January 19. Get to Know Your Customers Day.
January 22. Chinese New Year
January 24. National Compliment Day
Since we have no time machine, there is no need to describe each of them. Instead, let's focus on the events we can benefit from👇
February 2023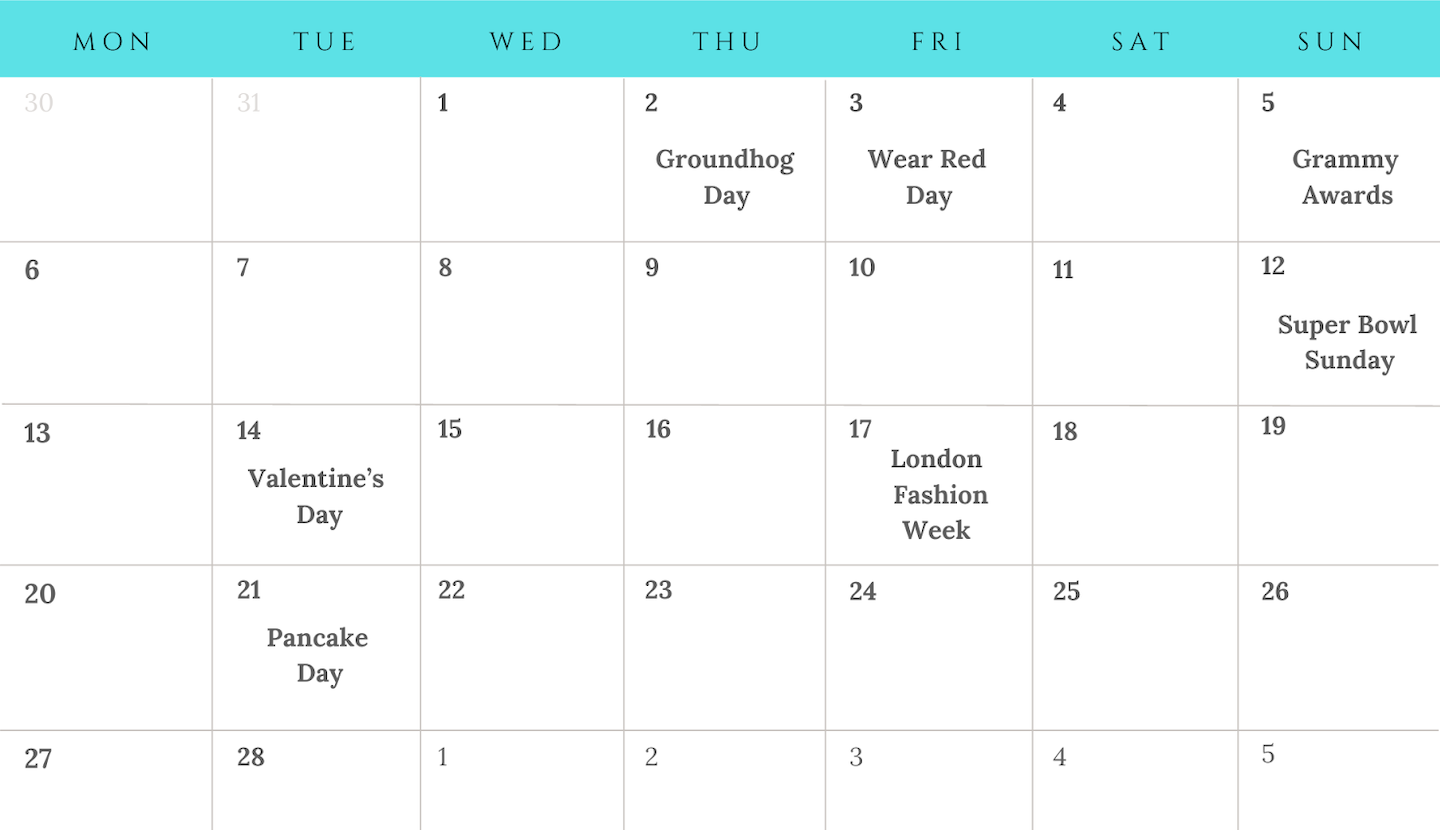 February 1st – 28. Black History Month
Show respect for the triumphs and struggles of African-Americans throughout U.S. history by sharing themed content, for example, the Black History Month playlist, or by engaging individuals to join relevant non-profit organizations.
February 2. Groundhog Day
It's a perfect time to play the predictions game with potential customers from Pennsylvania and Punxsutawney. This day they expect the town's groundhog prediction for a winter duration.
February 3. National Wear Red Day
If you use red in designs that day, Americans will consider it a support of heart disease awareness.
February 5. Annual Grammy Awards
It is one of the most exciting events for everyone who loves music. Use this topic in your Ad copy to catch the target audience's attention and convert them into customers. 
February 12. Super Bowl Sunday
It is a good chance to get the attention of football fans from the U.S.
February 14. Valentine's Day
Europe, the U.S., the UK, and Japanese people expect eCommerce companies to advertise ideas for romantic gifts. Think well over the Valentine's Day slogans and products to catch their attention.
February 17. London Fashion Week
It is a perfect occasion for fashion brands to engage the target audience.
It is a perfect time to launch a sale for every brand related to food and cooking, or can present its product as a pancake. Christians in the U.K. will love it.
February 21. Mardi Gras, a.k.a. Carnival
This is a day of parties and dances in places colonized by the French.
March 2023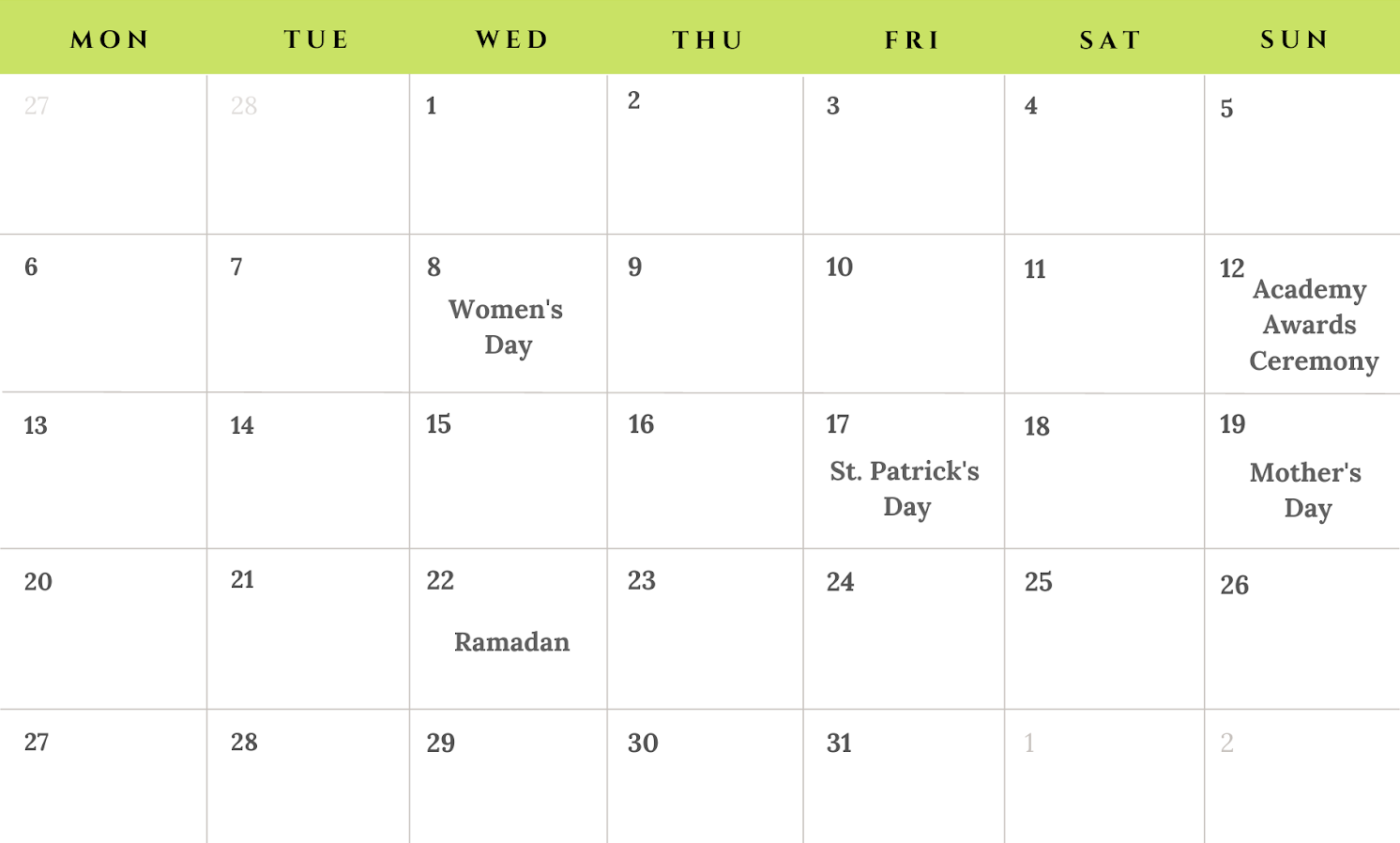 March 8. International Women's Day
At this global holiday, people celebrate gender equality and women's achievements in cultural, political, and socioeconomic fields.
March 12. 95th Academy Awards Ceremony
Fashion brands and souvenir shops can take this occasion to focus film lovers' attention on celebrities' styles or movie attributes and offer relevant items on sale.
March 17. St. Patrick's Day
On this Irish holiday, brands engage customers with green-colored content and items of all kinds. Some marketers believe that this color brings business luck in the face of new clients and sales.
This day is an excellent occasion for retailers to launch discounts and unique offers to potential customers in the U.K.
March 22. Beginning of Ramadan
Food brands and delivery services are extremely popular among Muslim practitioners during this time.
April 2023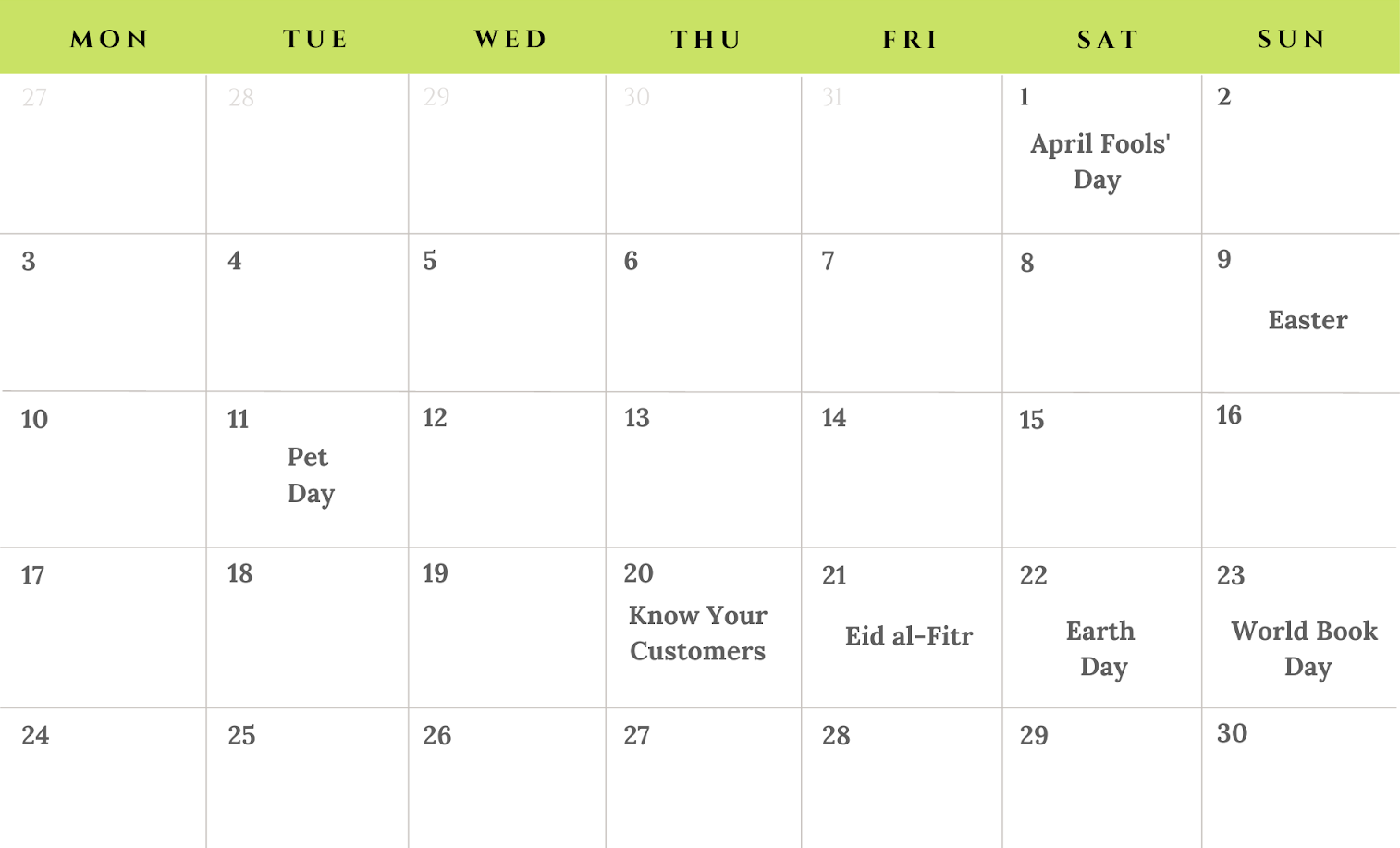 April 1. April Fools' Day
It is an excellent opportunity for brands targeting western audiences to show their sense of humor and get some hype. So think well over ideas to engage your customers on April Fools' Day.
A week before this holiday, Christians used to shop for Easter eggs, gifts, and decorations to celebrate Jesus Christ's resurrection.
April 11. National Pet Day
This is a perfect opportunity to grow sales for brands targeting pet owners in the US.
April 20. Get to Know Your Customers Day
This event is famous for brand surveys for which customers get rewards.
eCommerce companies can take this chance to promote various products that can help celebrate the end of Ramadan, from food to electronics to Muslims.
Grow environmental awareness among your customers by posting relevant content, making donations, and launching giveaways.
Readers expect this day to get discounts from bookstores and apps.
May 2023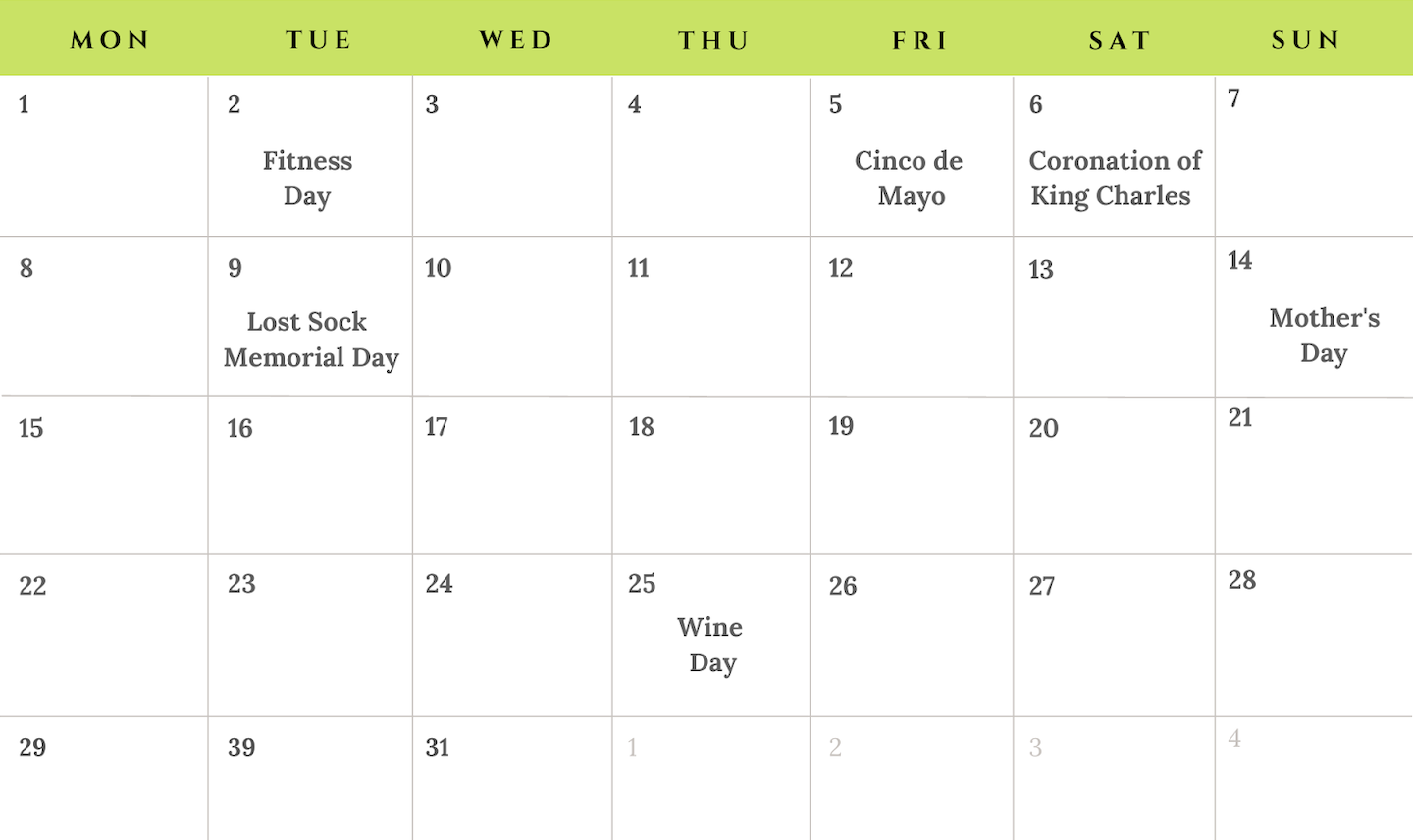 May 2. National Fitness Day
This day sportswear, equipment, wellness, and nutrition brands are very popular among U.S. citizens.
If your target audience is in Mexico, it is an excellent opportunity to show your honor to their victory over France in 1862 and promote themed products on social media.
May 6. Coronation of King Charles
This is a great promotional opportunity to reach audiences in the UK.
The UK celebrated it on March 19. Now, it's a turn for the rest of the world.
Wine retailers, take your chance to boat revenue by targeting U.S. wine lovers. For others, it is one more opportunity to engage with followers on social.
June 2023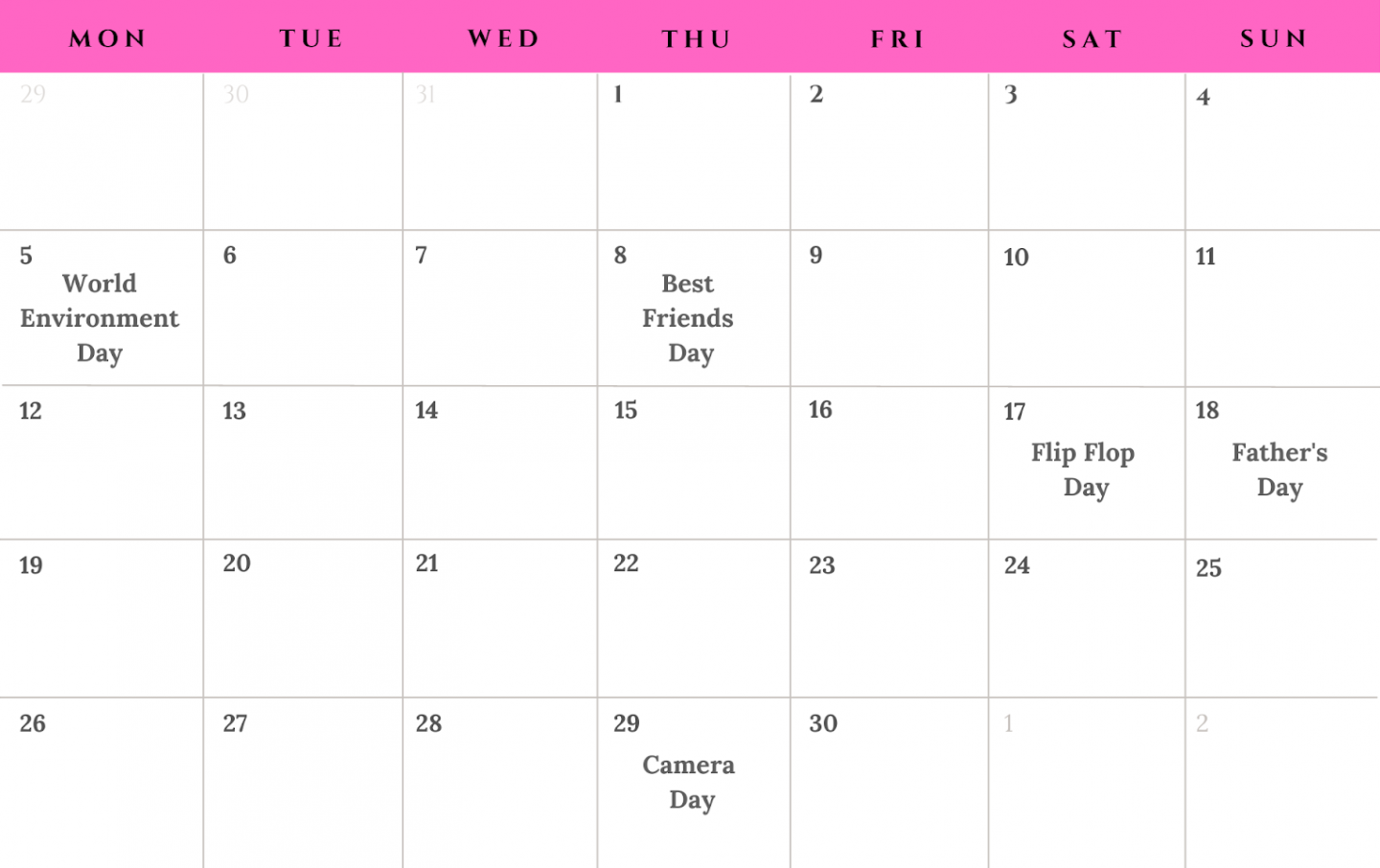 If you want to establish a good connection with the LGBTQ+ community, support them on your website or socials with relevant posts or promotions.
June 5. World Environment Day
Use this date to grow the environmental awareness of your audience if you missed a similar occasion in the previous months.
It is a globally known event to launch family- or friends-themed promotions.
What can be a better occasion for the footwear and seasonal stores to boost the flip-flops and relevant cloth sales than the beginning of summer?
Yes, now the father's turn to celebrate. Greet them with relevant promotions or posts on social media.
With this event, you can target almost everyone because, secretly or in public, everyone thinks they are a great (selfie, cat, food, nature photographer.) So, for example, engage people to share visual masterpieces with your product to get a prize.
July 2023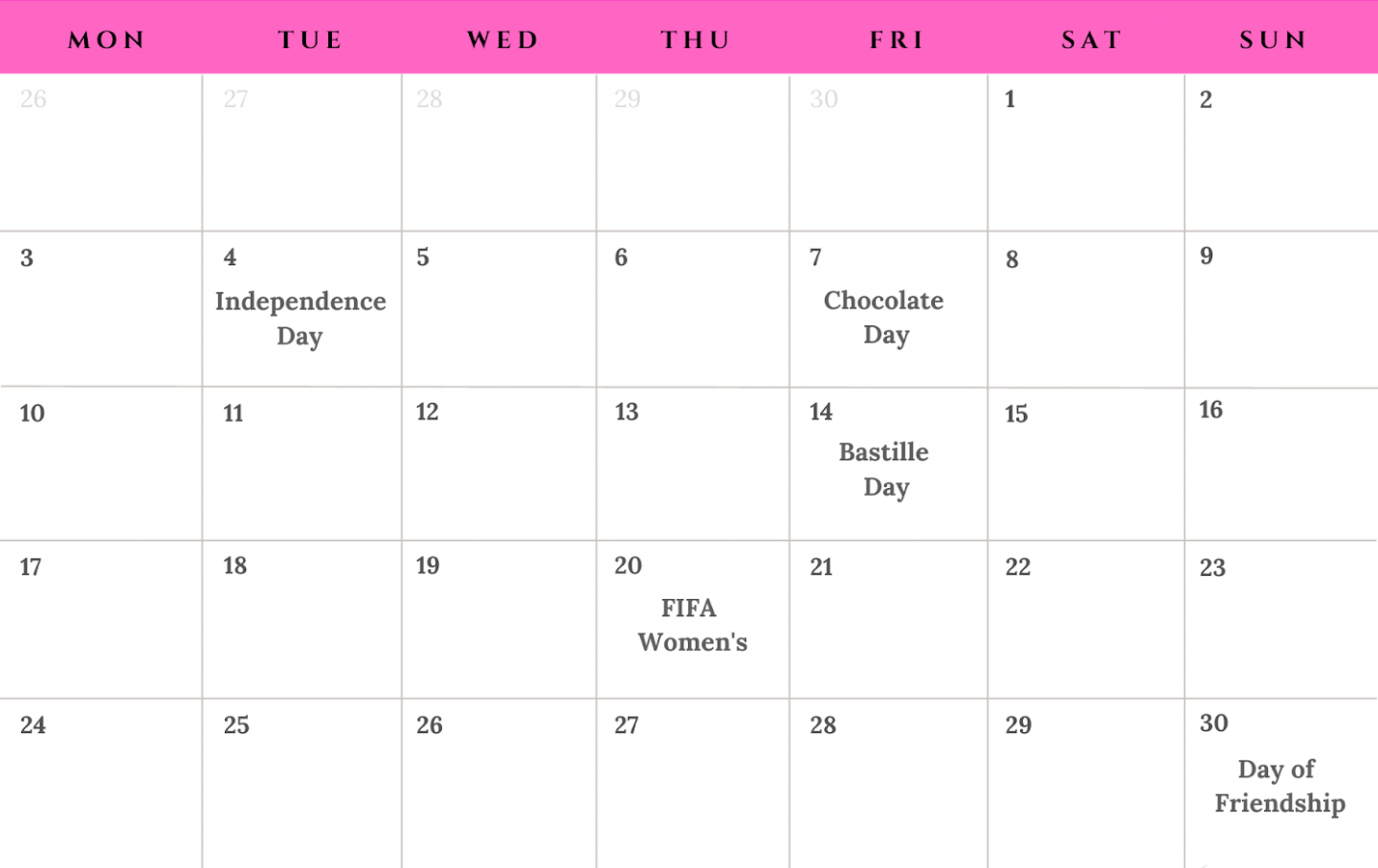 This famous holiday fits every brand, so take your chance to reach American audiences.
After Valentine's Day, this is a second opportunity for sweets retailers to target chocolate fans globally.
Reach out to French customers with promotions under the liberty and equality concept devoted to the French Revolution.
July 20. FIFA Women's World Cup start
Target sports fans all over the world.
July 30. International Day of Friendship
One more opportunity for brands that skipped June Best Friends Day to engage people to present their friends some gifts.
August 2023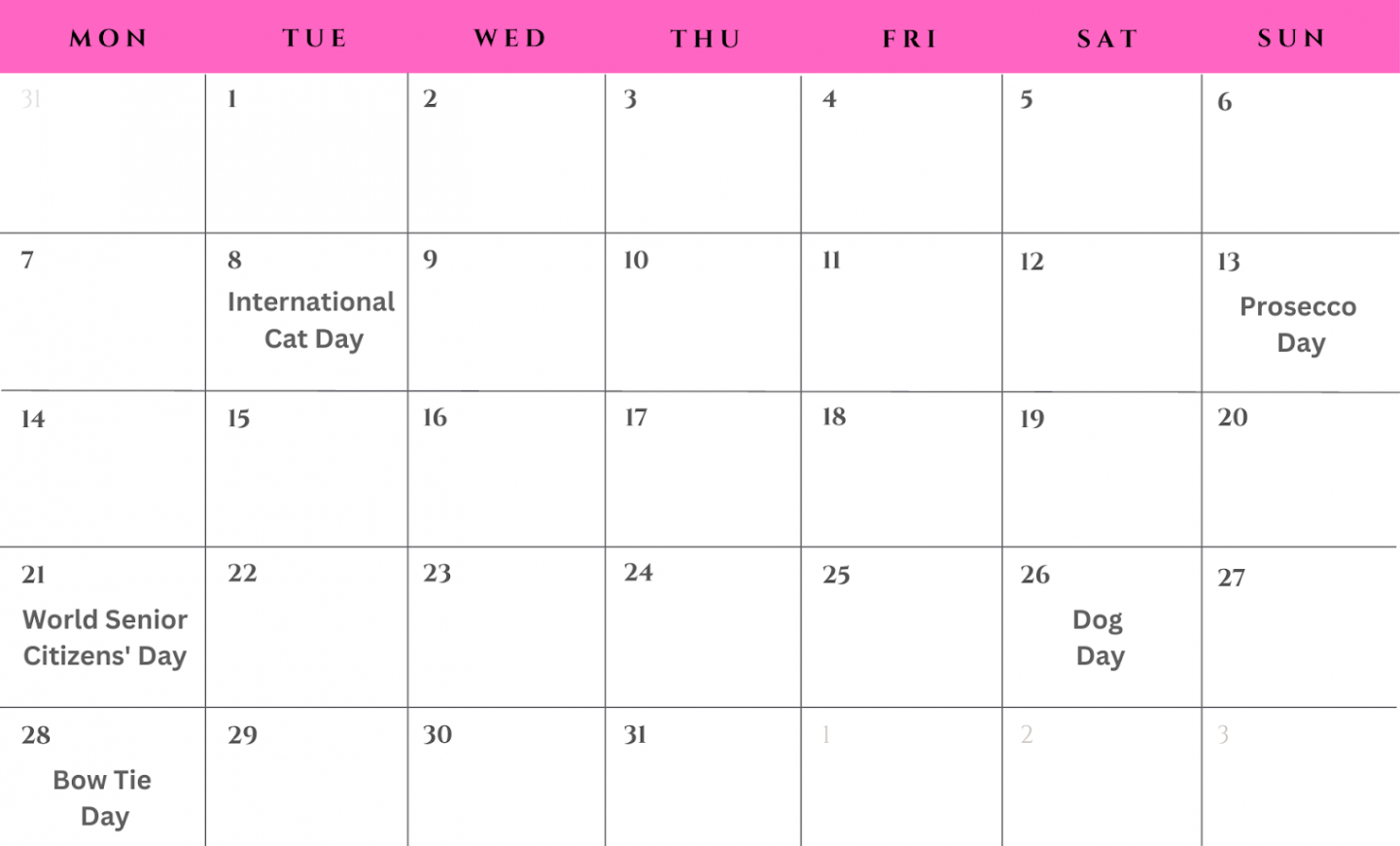 August 8. International Cat Day
In addition to standard discounts, you can use themed content to promote cat adoption and animal activism.
August 21. World Senior Citizens' Day
Use discounts to raise awareness of the specific issues impacting senior citizens.
August 26. International Dog Day
Online pet stores, you know what to do: themed content, competitions, giveaways for the best pet's photo, and discounts for fluffy paws owners.
August 28. National Bow Tie Day
Fashion, apparel, or clothing brands offer discounts to consumers who publish their fav bow tie on socials.
September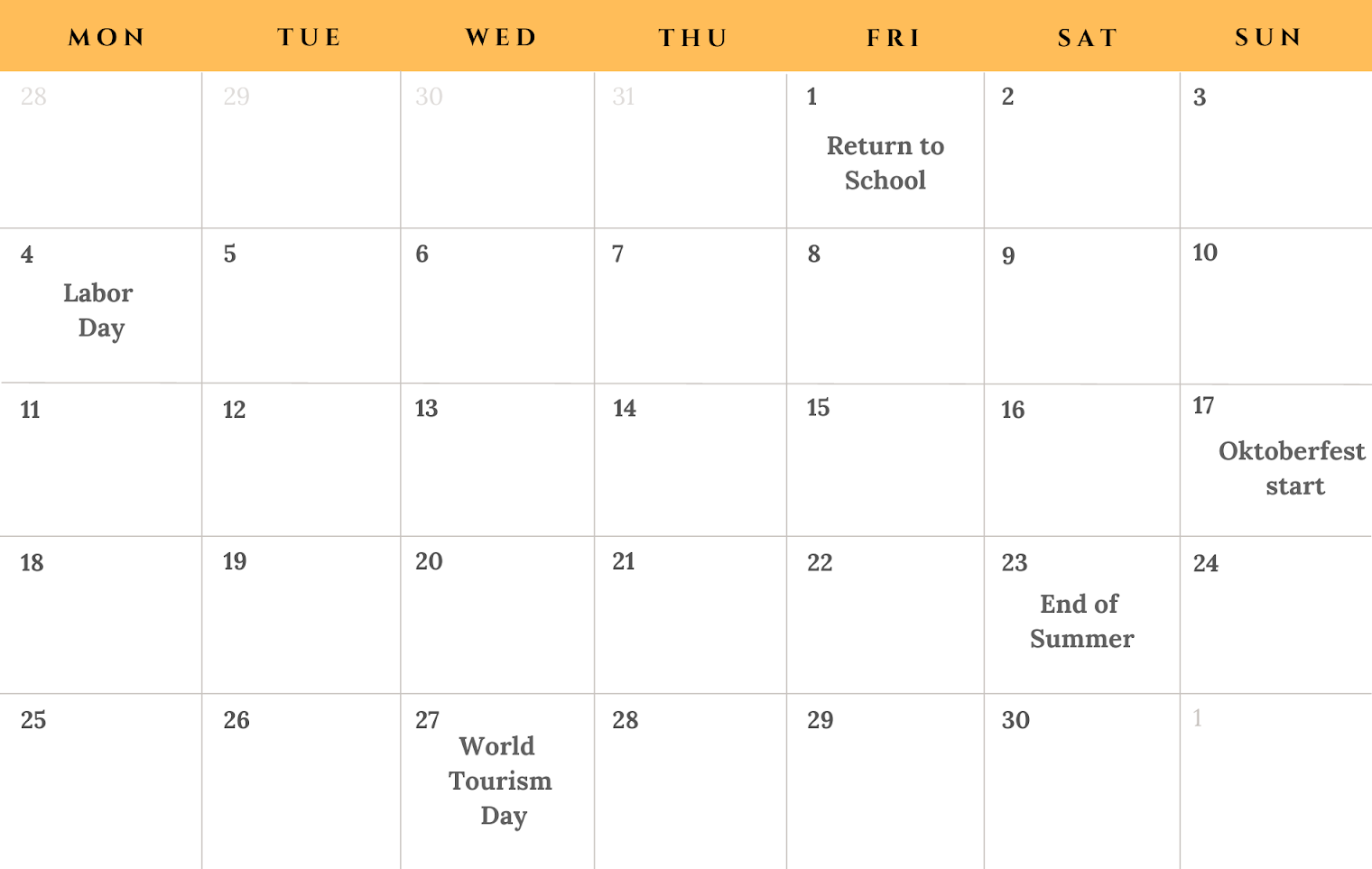 September 1. Return to School
At the start of an academic year in the U.S., brands related to education and school launch special offers: tech, office, and cloth discounts.
Show your honor of laborers with relevant offers for consumers in the US and Canada.
September 17. Oktoberfest start
Germans and everyone who loves this beer festival can't ignore themed product gifts and discounts.
September 23. End of Summer
It's the best day for the cloth retailers to sell rest of the summer collection.
September 27. World Tourism Day
Since 1980, brands that offer relevant products launch themed sales globally on this day.
October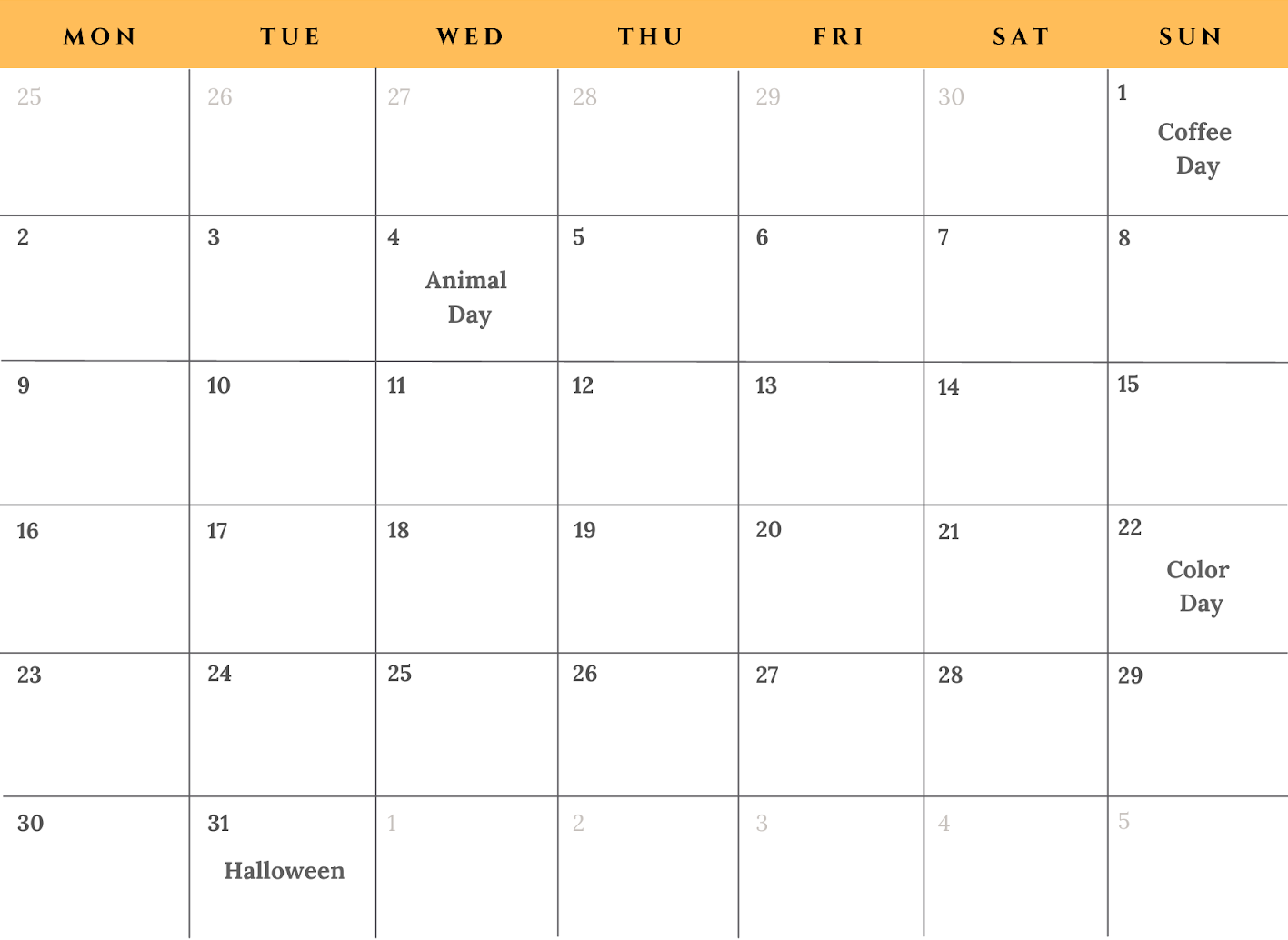 There are so many people who love coffee around the globe. Use this occasion to reach out to them.
Have you missed cat's and dog's days? Here is one more chance to celebrate animals' rights and welfare globally.
Starting with Americans, Halloween is a holiday celebrated globally today. Spooky designs, marketing copy, and Trick-or-Treating are only some topics to engage shoppers.
November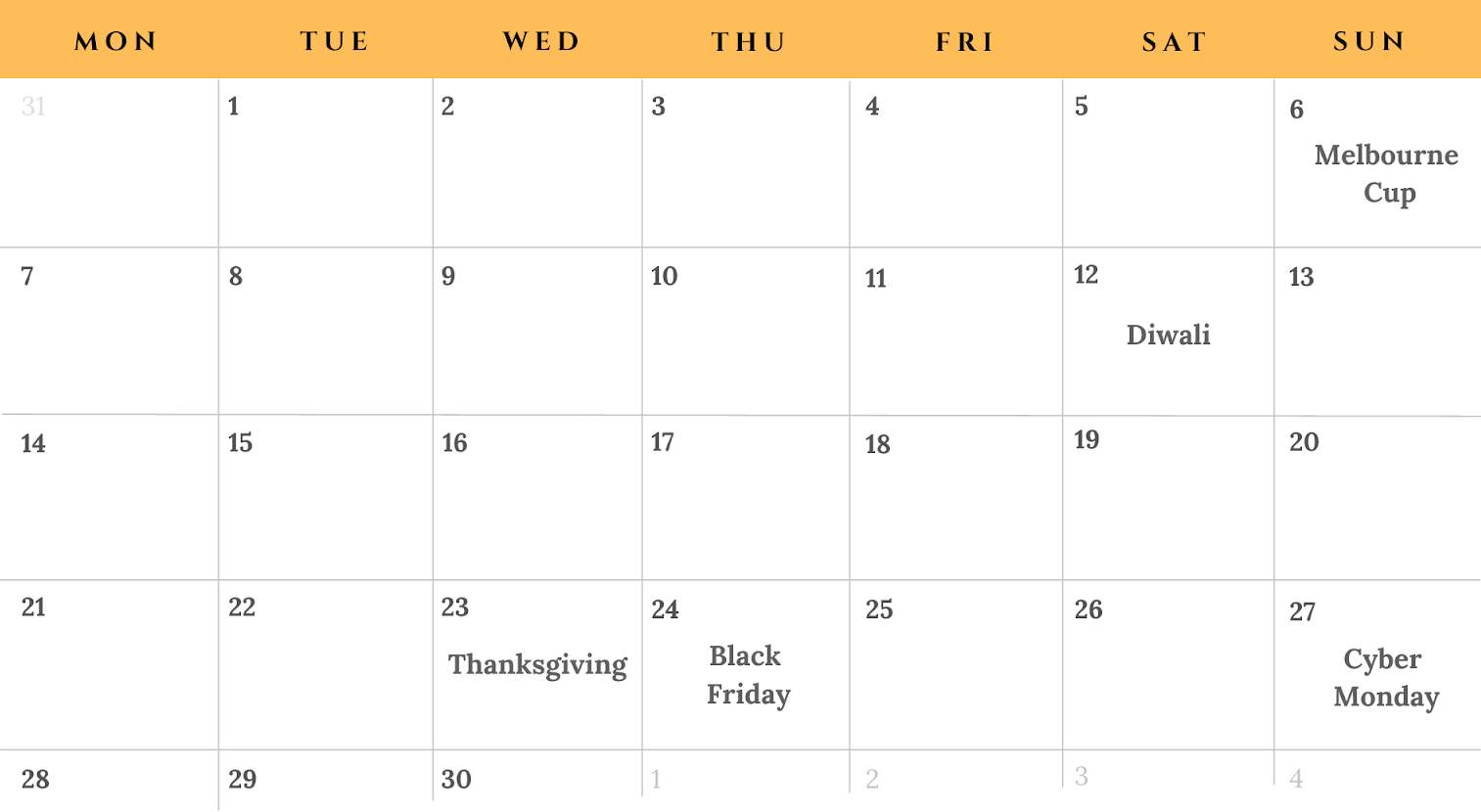 November 6. Melbourne Cup
It is an opportunity for food and beverage delivery apps to reach horse racing fans in Australia.
This is an Indian religious holiday when people buy accessories, clothing, and decorations.
November 23. Thanksgiving
Turkey, cranberry sauce, and pumpkin pie are the most famous attributes of this American holiday. Use these visuals to get people into a holiday spirit.
November 24. Black Friday
It is the holiday of the best deals on the web. Naturally, people expect brands to advertise significant discounts and free shipping.
Cyber Monday — November 27
Those who skipped the Black Friday deals enjoy the opportunity to get great deals from online retailers.
December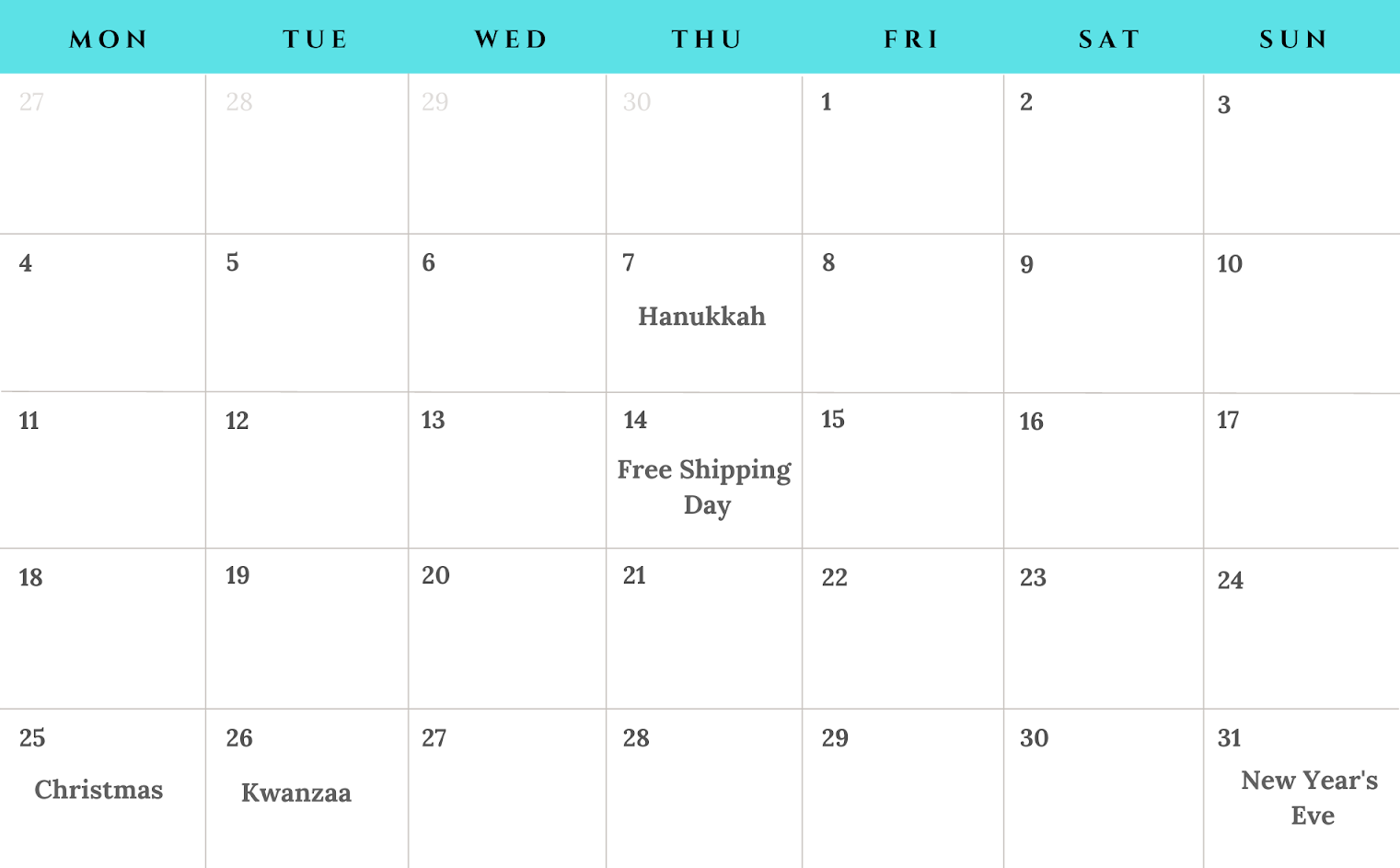 Here is when the 8-day Hanukkah starts. People of the Jewish community would like to buy traditional food like potato pancakes or donuts and small gifts online.
December 14. Free Shipping Day
It is the last opportunity for customers to shop for Christmas. This holiday fits all customers and brand types.
People don't shop on this day. They did this two weeks before. On December 25, Christians celebrate the birth of Jesus. So you can catch their attention with Christmas-themed activities that generate excitement.
It is the start of 7-days honoring the African heritage in the African-American community. People share gifts and spend time together, so you can engage them with Kwanzaa-themed deals.
December 31. New Year's Eve
The best time to inspire people to meet their goals with the help of your products.
To sum up
Now you have a list of dates to choose from. But not all of them are relevant to your target audience. To build an ideal eCommerce content calendar for 2023, consider the days most significant to your customers.
Who do you hope to draw in and introduce to your brand and products? You must identify your target market to create the finest marketing plan.
Consider the qualities of your typical clients. They, who?
What is their occupation, income, gender, and age?
What are their interests, pastimes, and purchasing behaviors?
What inspires your customer personas to acquire your items, and where do they come from?
Once you've defined those traits, you'll clearly know who to target when promoting holidays and personalized goods.