AdScale Platforms
Maropost
AdScale – The ultimate platform for Maropost users, manages Facebook, Google, Email, and SMS campaigns, all in one place. Get ahead of your competitors and save time with smart BI and AI segmentation for accurate advertising.
Get Started for Free
Take your store's advertising and marketing to the next level
AdScale was designed to build smart campaigns for you in all of the major channels including SMS, Google, Facebook, E-mail, and more. Thanks to our advanced AI algorithms, it'll only take you a few minutes to launch any campaign.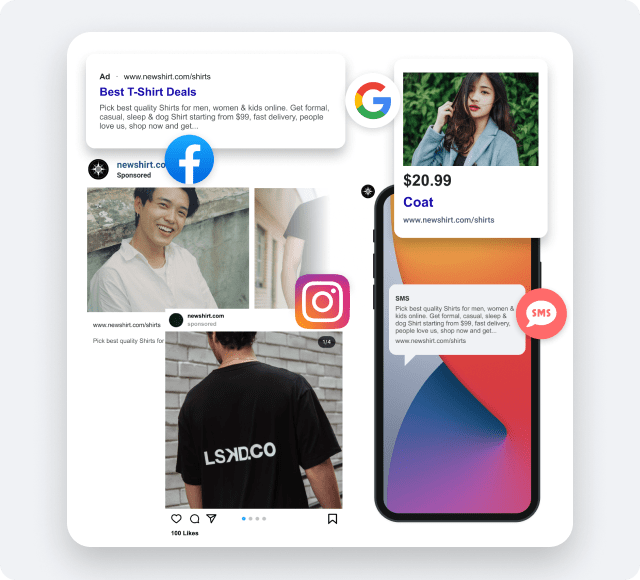 Focus on the things you can use your expertise for, and leave the rest to us
Invest your time in bringing the best product at the best price to your store. With the AdScale Marketing Cloud, you'll have one solution where all your marketing efforts are centralized and automated.
Define segments with no boundaries
Use ready-made segments or create with any combination of events, profile properties, location, forecast values, and more, for any time period.
AdScale's Marketing Cloud can help you achieve the following
Ready made flow templates
Get started faster with a selection of automation templates.
Real-time store-to-ad syncing
Every product change made in your store will automatically update on your ads.
24/7 Advertising
Bid & budget optimization algorithms that run on top of Google & Facebook.
Ease of use and installation
Set up your account and create your ads in minutes, without the need for technical expertise.
One platform for all marketing activities
From fragmented solutions to one E-commerce Marketing Cloud. Save time on marketing, be assured that you are investing your budget in the most optimized way and don't ever worry again about counting multiple conversions for the same sale.
One centralized dashboard with all your stats
Take a quick look at all the marketing and advertising performance with one dashboard, or dive-in to detailed reporting.