AdScale Platforms
Konimbo
AdScale – Unlock the growth potential for your Konimbo store
Get Started for Free
Take your store's advertising and marketing to the next level
AdScale was designed to build smart campaigns for you in all of the major channels including SMS, Google, Facebook, E-mail, and more. Thanks to our advanced AI algorithms, it'll only take you a few minutes to launch any campaign.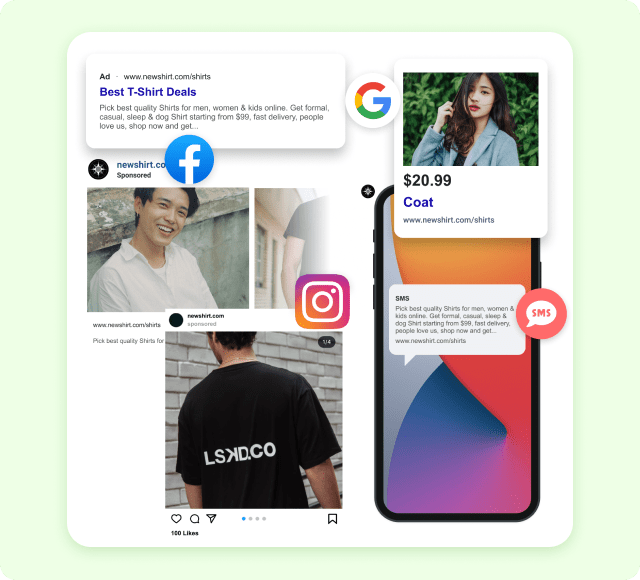 Track and Understand your users
Once you connect your Magento store, AdScale BI starts to calculate and summarize all your data so you have a deep understanding of your store's performance and an easy way to track it.
Define segments with no boundaries
Use ready-made segments or create with any combination of events, profile properties, location, forecast values, and more, for any time period.
AdScale's Marketing Cloud can help you achieve the following
Ready-to-use workflow models
Get started faster with a selection of Konimbo-special automation models for text messaging.
Real-time store-to-ad syncing
Every product change made in your store will automatically update on your ads.
24/7
Advertising
Bid & budget optimization algorithms that run on top of Google & Facebook.
Full historical data sync
Once you connect AdScale to your Konimbo store, all your historical data syncs automatically so you don't need to start advertising from scratch.
AI optimization that works for you 24/7
Our Smart AI calculates your data 24/7, making optimization decisions and taking actions on the spot so you don't lose a single chance to win new customer.
Essay then ever to start
When making the decision to start with AdScale we'll walk you through with a dedicated customer success that will help you to connect all your data and accounts. Start your campaigns instantly thanks to our pre-built flows and to our automated campaign creation and optimization.