If your work is related to the e-commerce business, you might know some marketing tools which move your online store forward and enhance its reputation among clients.
E-Commerce has a specific nature and closely relies on the correct marketing decisions, and especially post-marketing communication has the potential to build fruitful relationships between a company and its customers.
The software-supported shipment process is the result of a client-centric marketing strategy adopted by any e-commerce startup. In other words, after the purchase has been confirmed, our clients expect to receive a notification about the order delivery. Therefore, we should follow the rules dictated by e-mail marketing.
The automatic mailing is beneficial when it comes to strengthening reliable ties between clients and businesses and has several functions:
Informative. This option informs clients about shipment and payment details.
Collaborative. The e-mail text should address the targeted clients. To receive positive reactions from your notifications, you need to present friendly and collaboration-inviting messages which would be associated with the client's expectations of your company.
Technically innovative. The e-mailing process should manage different ties to provide quick data inquiry, its processing, and generating the outputs.
To simplify your creative searches to find e-mail marketing ideas, you may choose the most effective sample e-mail notification to customers, which we have compiled for potential clients.
Why Should You Notify A Customer That You Have Shipped An Order?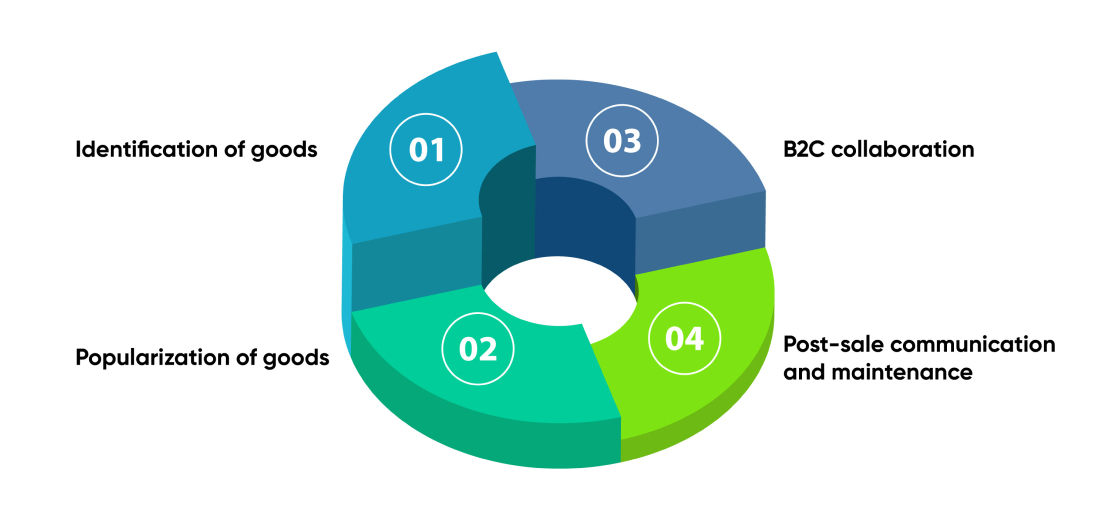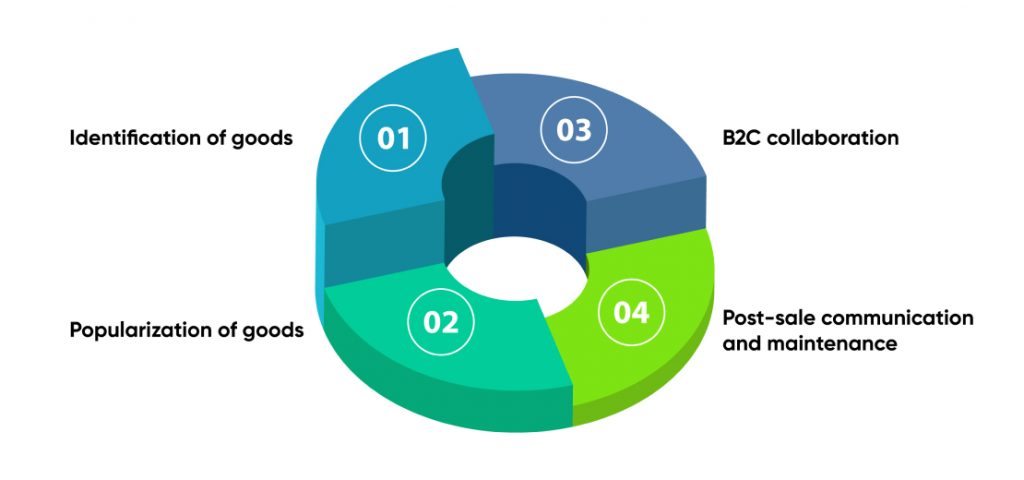 Any communication tool is an essential part of the e-commerce business marketing strategy. E-mailing takes a particular priority for e-commerce business progress because this tool performs an informative function to keep our clients aware of all the details about their orders.
E-commerce e-mail notifications can include important updates about shipping. They might include details about shipping your order or notification that a parcel is en route to its destination.
Reading the e-mails, customers react to them if the e-seller satisfies their purchasing needs. The correctly drafted notifications will motivate customers to make a purchase or participate in questionnaires, otherwise, readers neglect any seller's request.
Once we get the clients to be our friends and partners, we find a long-term profit-making audience for the company's progress.
Emailing is a source of valuable information which could improve B2C activities and attract a new audience. To win the audience, online sellers have to focus their attention on a few tips to compile informative notifications:
Customer segmentation. With the detailed division of your customer database, you can group potential purchasers by category, to whom represent different types of marketing communication tools. In other words, after forming separate target groups, digital marketers will be able to send e-mail templates for personal or group distribution.
Customize your e-mail templates. To make your e-mail messages informative and attractive to your readers, use images, graphics, content marketing tricks to catch your customer's attention.
Integrate marketing-supported platforms to collect essential data. Emailing is an excellent way to track your customers' habits. Data collected through segmentation and mailing communications are crucial for e-commerce business development strategies, as well as analytical reports.
You may argue that such straightforward actions seem trivial; however, their genuine content should show our e-commerce store's attitude to your clients irrespective of the number of purchases made.
How To Inform A Customer About Delivery?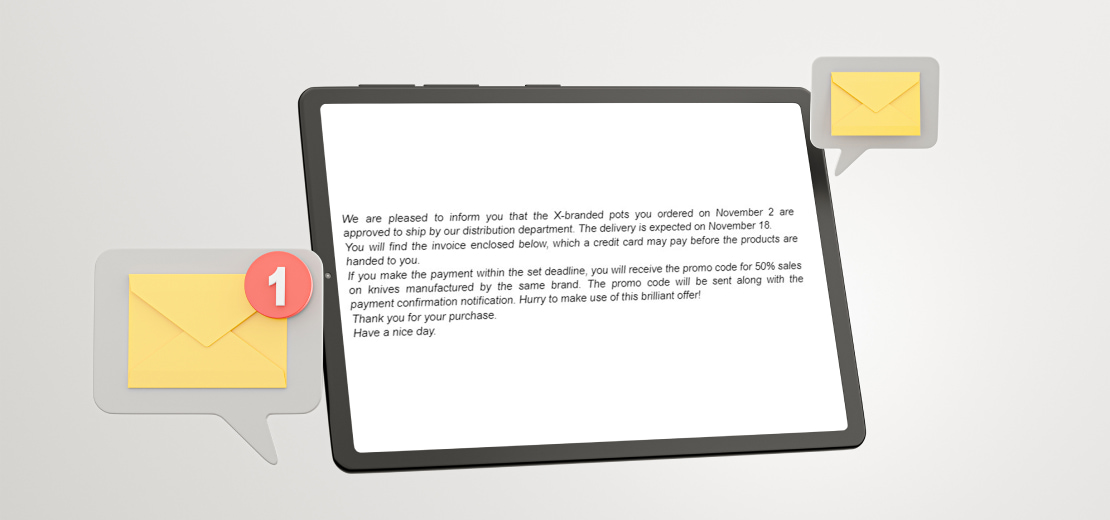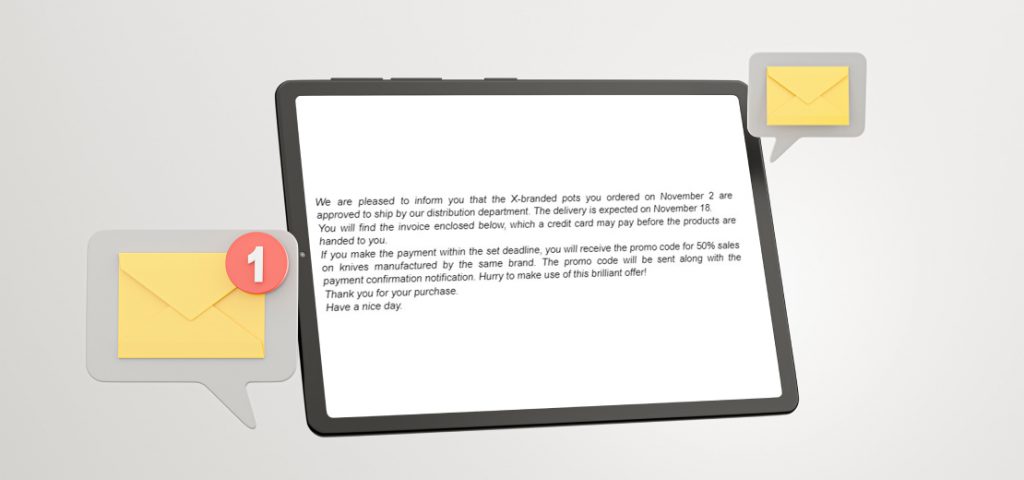 The post-sale notification sent to inform the customer of the delivery, payments, and other possible features is a way to ensure that your business welcomes any client suggestions for future cooperation. It is also essential to integrate the supportive tools or platforms which optimize your mailing and quickly process the feedback.
Any e-commerce business should understand that its client database size measures the success of the company's growth. So, the gradual increase of the customers complicates the communication activities. In this case, the online company needs to foresee the ready-drafted samples of mail patterns synchronized with the software platforms and other company communication tools to simplify e-mail marketing. To this end, such a marketing tool as AdScale utilizes special information optimization and ad management systems that analyze store's clients, break them up into particular target groups, and link the compiled order delivery notifications with these groups.
The e-mails should contain the following blocks:
Greetings. Choose greetings like 'Hey there!' or official written forms based on the person you address in your e-mail. Go with 'morning' or 'evening' at the start of your message, depending on the time of day. In this case, there should be an option (software) to schedule your notifications on a particular date and time.
Delivery details. The shipment details are the central part of our order delivery e-mails and an essential element to increase our e-commerce sales in the future. Language, attitude, emotional phrases, and a special approach to each customer should be the foundation for productive e-mail marketing. Simplicity and clearness attract clients. It's preferable to have a software solution ready to process all customer feedback and rate questionnaire answers to know their true opinion. In addition, you should always apologize if the shipment fails or has been delayed.
Payment arrangements. The order delivery e-mail could include arrangements regarding the payment procedure and final price agreement. For instance, your clients should pay for the delivery in cash or credit card upon its receipt.
Final part. It would be ideal to close your letter with words of appreciation and inspiration to establish the grounds for future cooperation.
The e-mail should explain the crucial delivery information required by the customer. Preferably, we need to draft the e-mail content, bearing in mind customer categories, emailing time, type of our e-commerce business, and other accompanying circumstances.
Sample #1 For Business Partners
Dear Mr./Mrs./Ms XXXXXX,
We appreciate your trust and commitment to us, and we look forward to working with you in the future.
Following up on our partnership, we would like to discuss our previous business deal concerning the shipment of our product batch.
Based on our wholesale confirmation, your order #0000000 was sent by the manufacturer and successfully shipped to your business address. The estimated date of delivery is as agreed.
We also enclose the payment documents to simplify our accounting operations.
Thank you once again for the fruitful cooperation.
Sincerely,
Sample #2 For Creative Clients And Art Masters
Hey there!
Thank you so much for your order! We hope you're looking forward to getting your books, which should be delivered in two weeks after we receive payment. To complete the shipping process, please confirm the delivery address & time for this order.
The due payment you need to make is the last working day of this month. All the required bank details are attached to this letter.
We look forward to your order confirmation and future cooperation activities.
Kind regards,
Sample #3 By Liberal E-commerce Business Structure
Hi [first name],
Just a friendly message to inform you that your delivery of the fresh roses is confirmed and shipped to the address below:
XXXXXX
The delivery fee is 12.00 USD which needs to be paid to the courier by cash or credit card.
Please kindly assess the delivery service quality by answering a few questions below.
We hope that our company will remain your reliable online rose distributor in the future.
Best regards,
Sample #4 For Demanding Clients
Dear [first name],
We appreciate your long-term cooperation with our company and hope you will stay with us in the future.
According to your order on the latest fashionable accessories, your order has been processed and submitted to our warehouse. Unfortunately, the products are currently unavailable due to manufacturer delays. However, we are ready to deliver them to you within ten business days. The respective Push notification will be sent to you later.
You are requested to pay only the product value. As an added bonus, you won't have to pay for delivery.
We thank you for your understanding and hope for future fruitful cooperation.
Best wishes,
Sample #5 For Busy Customers
Hello,
The laptop you ordered is on the way to your delivery address. The expected delivery date is Friday, October 22.
To save you time, you may make payments amounting to 13.50 USD to the following bank details:
XXXXXXXX
Thank you for choosing our company. We are working to make your purchases faster and more qualitative.
Regards,
Sample #6 For Sales Hunters
Dear [first name],
We are pleased to inform you that the X-branded pots you ordered on November 2 are approved to ship by our distribution department. The delivery is expected on November 18.
You will find the invoice enclosed below, which you may pay by credit card before the products are handed to you.
If you make the payment within the set deadline, you will receive a promo code for 50% off knives manufactured by the same brand. The promo code will be sent along with the payment confirmation message. Hurry to make use of this brilliant offer!
Thank you for your purchase.
Have a nice day.
Sample #7 For The Most Active Clients
Greetings,
We are delighted you chose us and want to inform you of some details about your shipment.
To deliver your order in time, we plan to meet our standard deadline indicated as 15 calendar days but not later than June 4.
Please find enclosed the invoice for the goods ordered, which should be paid by the end of June.
We want to note that our store provides the beneficial cashback option resulting from the respective agreement concluded with your bank.
Thank you for your extended cooperation with us. We always try to develop the best offers for you.
Best regards,
---
So, we may take one of the proposed samples for our emailing messages and think about the platforms that could improve customer segmentation, distribution, and shipment processes.