Introduction
A study by Boston Consulting Group, one of the largest consulting companies in the world, found that brands that thoroughly implemented First-Party Data in advertising and marketing processes increased revenues up to three times!
So what is first-party advertising, and how does it work?
Data Types
First, let's understand what data types exist:
First-Party Data – this is my data; We will expand on it immediately.
Second Party Data – this is our data; for example, when you and I share data and each one benefits from the other's first-party data.
Third-Party Data – this is their data. That is someone else's data that I use.
The most common use to date is, of course, third-party data. How does Facebook advertising work? For example: when you enter an e-commerce site, the site plants information in your browser, such as which products I viewed, what I added to the cart, etc. The browser sends the data to Facebook, and its advertising system uses the information in two ways:
She targets me as a remarketing audience for the site I browsed,
She targets me as a new audience for the competitors of the store I was browsing
In practice, all websites contribute their information to Facebook, competing for the same audiences.
FIRST-PARTY DATA
We define first-party data as data that businesses can collect directly from consumers. This includes information about customers' intent to purchase to improve the shopping experience. First-party data sources include browsing behavior on a company's website, order transaction history, customer data, and product information.
First-party data comes from your online store; therefore, it is the most valuable type of information you can collect. It helps you understand customer behavior and identify buying patterns; therefore, first-party data is more accurate than third-party data.
Suppose we put the three types on a graph, one axis of which has the amount of data and the other axis the level of accuracy. In that case, we will find that third-party data is the largest in terms of quantity but the least accurate, while first-party data is smaller but much more qualitative and accurate.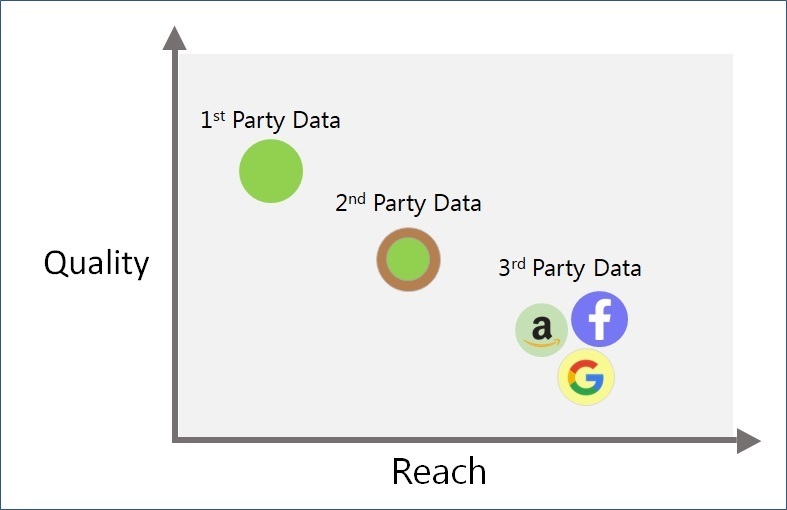 Approaching a world without cookies soon, advertising on Facebook and Google is becoming a black box increasingly. The only way to accurately advertise and beat the competition is to use data that is only yours.
The data of your customers, your products, your orders, basically all the data you have on your ecommerce site, data that Google and Facebook do not have because they can't access your ecommerce site. It is also data that does not leak to any competitor.
Using first-party data correctly, you can build targeted advertising and marketing processes with personalized value propositions based on an in-depth analysis of consumer behavior and buying patterns.
Using first-party data in advertising
Four key elements should be part of any first-party data-led advertising campaign:
1. Segmentation of audiences – this is the basis for creating homogeneous groups with common denominators that can be leveraged through personalization in marketing.
2. Relevant value propositions – enabling high customer engagement. The trick is not only to whom to offer but what to offer and when to offer.
3. Using analytics and machine learning technologies to produce personalized customer experiences. Businesses don't realize how much gold lies in their data.
4. Cross-channel marketing – the ability to manage the process and share the data between all the main marketing channels in an easy way.
Summary
Should you use first-party data in your advertising? Absolutely! It's the best way to build personalized ads that target the right audience with the right message at the right time.