In today's marketing and advertising world, it's becoming increasingly difficult to target the right people with the right content. Using pixels and cookies, especially after the recent IOS changes, to generate sales with good returns just doesn't get the job done anymore. Conversion rates are dropping across the board and costs per customer acquisition are increasing rapidly.
However, there might be a solution to all this mess – Creating customer segments using first party data.
First-party data is the strongest tool to target your customers.
Unlike third-party data collected by pixels and cookies, it's pulled directly from your ecommerce store and is far superior to alternative data sources. It's accurate, detailed, and isn't affected by changes like the IOS updates.
Using this data to create accurate, relevant audiences across all marketing and advertising channels, is currently the best way to beat the IOS changes and come out on top, and a must-have for every ecommerce business.
There is still a problem – how do we decide which of our customers we want to target in order to get the best results?
We did the labor for you, and brought you the top three most recommended segments to use for your advertising and marketing needs.
Customers who are likely to purchase soon
When we talk about which customers to target, one of the hardest questions that comes up is when our customers are most likely to repurchase. Target your customers too soon, and you may waste funds on impressions and clicks. Target them too late, and they may find another place to do their business. This means that for customer retention, timing is key.
Here is the solution – Create a segment of customers who purchased several times from your website, and target them based on their Average repurchase frequency.
Average repurchase frequency is a fancy term for the average number of days it takes for a customer to make an additional purchase.
For example, if a customer was to purchase his second order after 40 days, and his third order after 30 days, his average repurchase frequency would be 35 days.
With this information, we can make sure that we target the right people, at the right time, every time.
We can target each individual customer at the time that he is most likely to purchase again, based on their average repurchase frequency.
The ads targeting these customers can feature new collections or products, a coupon code, or a simple nudge to simply get them re-engaged with your website.
Note that the repurchase frequency varies from customer to customer. This means the advertising timing must match each customer's shopping behavior.
Products that are likely to be purchased soon
Here is another solution for the same problem of understanding when to retarget your customers. However, this segment takes it to the next level – Instead of only focusing on when the customer is likely to purchase again, let's understand what product he is likely to purchase.
Many online businesses feature products that are purchased multiple times. These are usually, but not exclusively, perishable products, that are repurchased periodically by the same customers, over and over again. These products can include skincare, food and beverage, clothes, cleaning supplies, and more.
Understanding when to retarget your customers with these products is the same as before – by understanding the Average repurchase frequency. If Daniel purchases diapers from your website, then purchases diapers again after 3 months, and then a third time after an additional 2 months, we can understand that Daniel purchases diapers every two and a half months, on average.
Using this information, we can create customer segments that target customers who purchased certain products again and again, when they are most likely to purchase them again.
Note that every product has it's own repurchase frequency.
Top Customers
Another question that comes up when we discuss targeting, is which of my clients should I invest my advertising funds in. Can we gain more from targeting a specific type of customer behavior? In our opinion, the answer is yes.
"Top customers" segment consists of customers with one or more of three shopping behaviors –
Customers who purchase with a high average order.
Customers who spent a lot of money on your website in their lifetime.
Customers who purchased multiple times.
This creates a segment of your best customers.
Because customers purchased several times in the past, or spent a lot of money on your products, retargeting them will usually result in a higher conversion rate, and bigger orders.
We can also create a Lookalike or Similar audience based on this segment, to prospect for new customers who have a similar shopping behavior to your best customers.
In conclusion, using this segment in both new traffic and remarketing ads will assist us in not only bringing in high-potential customers, but also in getting them to purchase again and again.
How to create customer segments
Creating these segments can be done by exporting your customer data to excel sheets, and filtering them based on different attributes, like when they purchased or how much they spent each order.
These lists can then be imported into Facebook and Google, to be used as audiences for your campaigns.
Remember that it's required to manually update these lists once in a while, as they aren't updated automatically. It's recommended to do this around every two-three weeks.
It may be time consuming, but it's definitely worth it.
However, if you have an opportunity to use an automation tool to create smart customer segments for you, it can make a big difference.
Adscale offers an easy and automatic solution for creating segments.
Instead of exporting lists and managing them manually, the Adscale platform pulls all your data automatically, and creates ready-made top performing audience segments to choose from, including the "Top customer combo" segment, and the "Customers who are likely to purchase" segment.
These segments are updated on a daily basis, making sure every new customer is automatically added.
If you want to create your own segment – you can do that using the audience builder. It's extremely easy to use and lets you create very specific and personalized segments.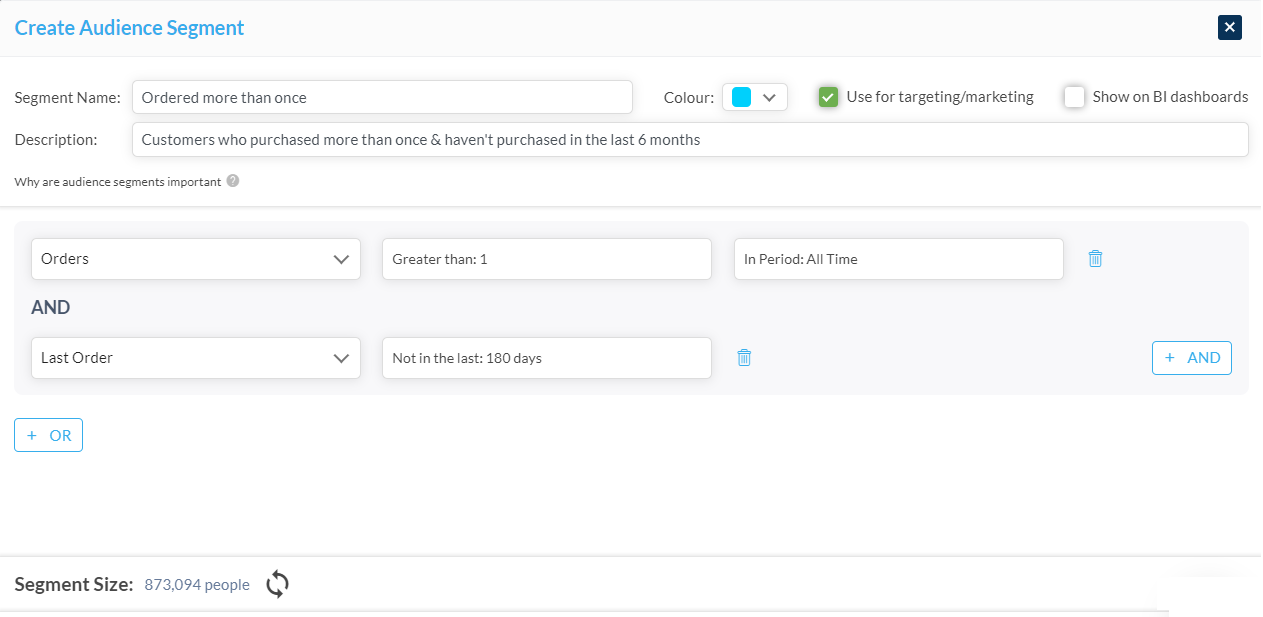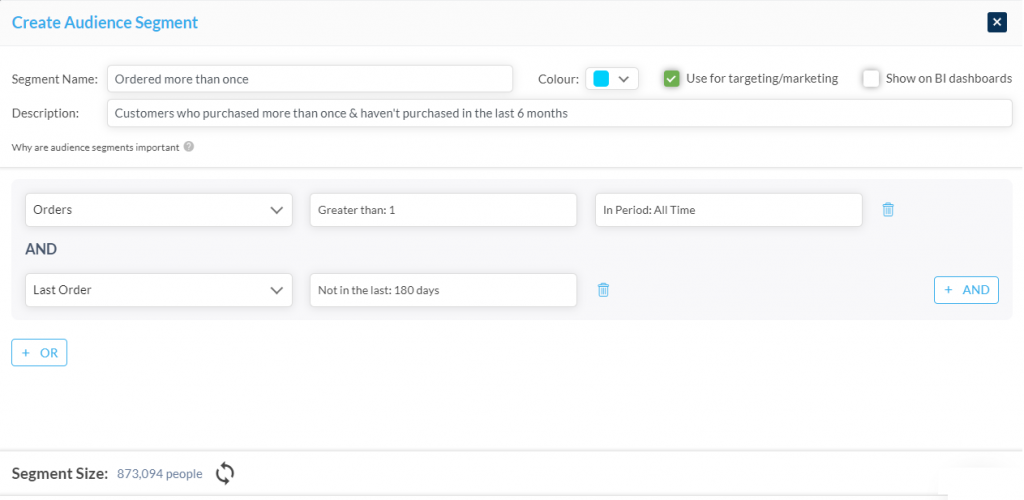 Lastly, it's automatically uploaded to your Facebook business manager and your Adwords account, and is available for use in Email and SMS marketing.
Conclusion
We discussed the advantages of using customer segments, and how they offer an alternative targeting option with the recent IOS changes.
When it becomes more and more difficult to properly target your customers and to prospect for new ones, first-party data customer segments become a must-have solution for any ecommerce store.